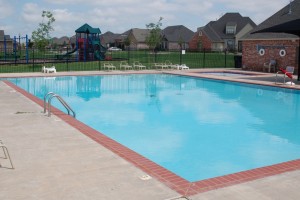 The swimming pool and fitness center facility is one of the greatest perks of being an Auburn Meadows resident.
Getting pool/fitness center access for new residents
If you are new to the neighborhood and would like access to the pool and fitness room, please fill out the waiver and return it to the Auburn Meadows  clubhouse at 18211 Auburn Meadows Dr. If you have a caregiver for children such as a babysitter or nanny, you can fill out an independent guest waiver for them (subject to approval). You will be issued one proximity key fob for access.
Replacement or Additional Fobs
If you need a replacement key fob, complete the waiver and submit with a check for $5 to the Auburn Meadows clubhouse at 18211 Auburn Meadows Dr. Please make checks payable to Auburn Meadows Owners Association. There is a limit of three fobs per family.
Pool Hours
| | Sun | Mon | Tues | Wednes | Thurs | Fri | Sat |
| --- | --- | --- | --- | --- | --- | --- | --- |
| Adult Swim | Dawn-1pm | Closed | Dawn-10am | Dawn-Noon | Dawn-Noon | Dawn-Noon | Dawn-10am |
| General Swim | 1-8pm | Closed | Noon-8pm | Noon-8pm | Noon-8pm | Noon-8pm | Noon-8pm |
Pool Rental
The pool is also available for rental. If you are interested in renting the pool out in advance for a gathering or party, you may fill out the pool rental contract.  Talk directly with the lifeguards and give the lifeguard this completed form and the fees.  The HOA board cannot assist with this service.
Adult Swim
Adult swim hours are available for those that fill out the adult swim waiver form. See above for the Adult Swim Hours.
Adult Swim Rules
Only Auburn Meadows/Villas homeowners, 18 years or older can obtain a pool access key fob for use during unsupervised adult swim hours.
If a pool party has been booked between these hours, that event will take precedence over adult swim. Additionally, adult swim must stop any time lifeguards or pool maintenance personnel need to maintain, clean or adjust chemicals in the pool (usually during the 1 hour prior to opening for normal hours). In the event of inclement weather, adult swim is cancelled.
Key fob holders cannot let anyone else in; each resident must use their own key fob for entry. Users cannot leave the door unlocked and can never allow access by anyone under 18 years of age.
A signed adult swim waiver must be submitted prior to using the pool during these hours. Adult swim waiver forms can be found in the Auburn Meadows home owners website (www.auburnmeadows.org).
Submit your signed swim waiver in an envelope addressed "ADULT SWIM" and drop it in the Auburn Meadows mail box located at 18211 Auburn Meadows Rd, in front of the clubhouse.
Once your waiver has been received, you will be contacted about programming your access key fob.
For more information please submit your questions in writing to the attention of the "pool committee" or by email to the address(es) listed under "pool committee" on the association website.